Vegan Nahmesan – Italian Style Cheeze
£3.25
Top your pasta and salads with my Italian Style Cheeze. This pumpkin seed-based 'Nahmesan' is the ideal salty, cheezey accompaniment to your favourite pasta dishes. Ready to eat, each pack contains about 10 servings, and lasts for 3 months once opened.
Check out my review in the Huffington Post.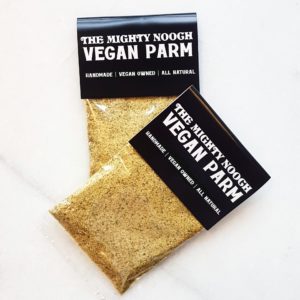 Key features:
handmade with love in SE London
totally vegan
no gluten containing ingredients; no soy or nut-containing ingredients [may contain traces due to manufacturing and suppliers]
one pack makes around 10 portions
approx. weight 45g
Ingredients: organic pumpkin seeds, nutritional yeast (contains B12), salt, basil
The parm is nut free by way of ingredients but due to supplier manufacturing methods it may contain traces of all allergens.
Weight: approx 45g
As seen in Huffington Post…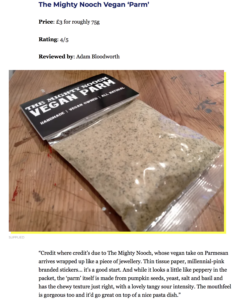 "Credit where credit's due to The Mighty Nooch, whose vegan take on Parmesan arrives wrapped up like a piece of jewellery. Thin tissue paper, millennial-pink branded stickers… it's a good start. And while it looks a little like peppery in the packet, the 'parm' itself is made from pumpkin seeds, yeast, salt and basil and has the chewy texture just right, with a lovely tangy sour intensity. The mouthfeel is gorgeous too and it'd go great on top of a nice pasta dish."
In stock