Mac and Cheese Mix
£3.50
This Mac and Cheese is the dream – it's packed full of flavour, it doesn't need any fancy ingredients, cooks in minutes and has NO NASTIES!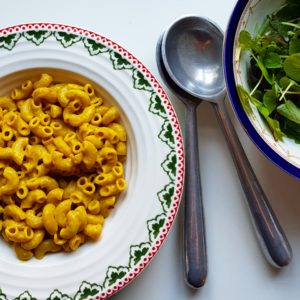 Ingredients:
Nutritional yeast (contains B12), tapioca flour, natural flavourings (contains onion, garlic, turmeric, paprika), lactic acid*, pepper, salt. *of vegan origin
Allergens:
It is allergen free by way of ingredients, but may contain traces of nuts, milk soy and gluten by way of production. I use dedicated, allergen free utensils for making my Mac, but the kitchen is sadly not yet 100% allergen free (I'm working on it!). Please get in touch if you want to discuss cross contamination!
Instructions:
For a saucy mac:
Mix two teaspoons of mix with 100ml of an unsweetened mylk of your choice. Stir it in a saucepan, heating it gently. It will begin to thicken and will go a bit stringy, like melted cheese. Take it off the heat and combine with a pasta of your choice, heating gently as you mix.
Serve immediately – I like it with some greens and (vegan) bacon bits sprinkled on top! (also, it won't be thick if you reheat it!)
For a thick mac:
Mix two teaspoons of powder with 80ml of an unsweetened mylk. Follow instructions above!
One pack will make approx. 20 servings of Mac and Cheese (that's about two litres!)
Out of stock
Additional information
| | |
| --- | --- |
| Weight | 150 g |
| Dimensions | 8.5 × 5.1 × 0.5 in |